2016 Musical Instrument Industry Summary: Country Ranking and Vendor Ranking
Release time:2018-03-31Source:Media ReportClick:-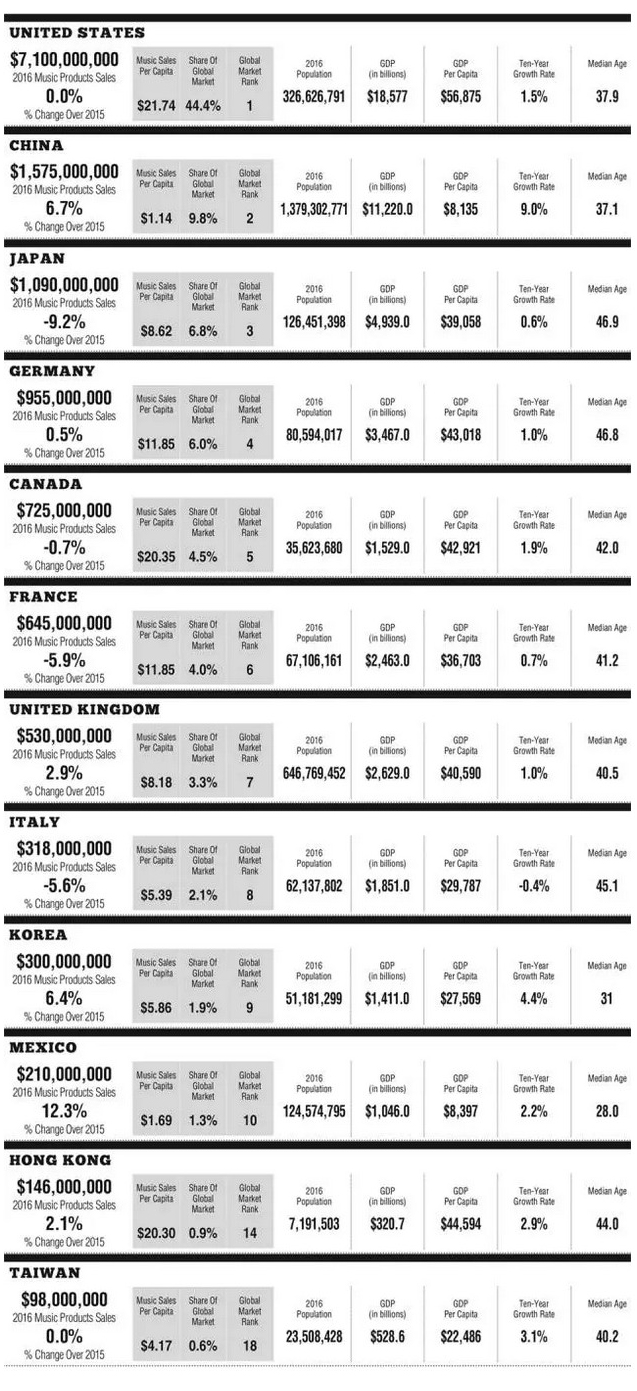 2016 Musical Instrument Industry Summary: Country Ranking and Vendor Ranking
Although it is a bit late, the music industry's data authority "Music Trade" only announced last year's "National Ranking" and "Manufacturer Ranking" in November, so this is the 2016 ranking... This year we put the two rankings together for comparison, please refer to the national and industry rankings of the musical instrument industry in 2015.
In 2016, the global GDP was 756.416 billion US dollars, which was basically the same as that of 2015. How much can the instrument take up? ("generalized instrument" include sub-fields such as guitar, recording, sound reinforcement, lighting, DJ, etc.) ——
Still $16 billion,
For 3 consecutive years, that is a bit strange…
Why is it much lower than 2007? We think it was the iPhone released that year... Nowadays, tuning, metronome, music creation and even acoustic measurement can be done on mobile phones without purchasing expensive instruments or hardware, which is very convenient for musicians.
What is the size of the musical instrument industry? Apple's 2016 sales were US$215.6 billion, 13 times that of the instrument industry; Tencent's sales last year were US$21.9 billion, 40% higher than the instrument industry. In fact, there are 450 companies with sales exceeding the instrument industry...
Let us still look at the list first, still list TOP10 and Hong Kong (No.14) and Taiwan (No.18)
The United States has finally stopped growing...
Were they too busy spoofing the new president Last year?
China's musical instrument consumption increased by 6.7%
it surprisingly matches with China's GDP growth rate... Less than 8.5% in 2015, "per capita instrument consumption" increased to 1.14 US dollars/year, only 1/20 of the US, there is still a lot of space. After all, the Chinese musical instrument consumption The average annual growth rate reached 9%, and this score is leading in the world;
If Hong Kong and Taiwan are counted, the consumption of musical instruments of "Great China" can reach 1.8 billion US dollars, accounting for 11.3% of the global musical instrument scale. However, in the United States, added with No.5 Canada. the sales of North American musical instruments account for only 49% of the world. ...
? South Korea (6.4%) has a high increased rate. Since they fell sharply (-5.7%) in 2015, this growth rate is nothing but a big fluctuation. The scale of Korean instruments is only one-fifth that of China, but " The median age is only 31 years old and there are many young people;
? Japan continues to "lead down" TOP10, a drop to -9.2%, which is actually much better than the -18.6% decline in 2015... The most important factor affecting Japan is the median age: 46.9 years old, aging for all industries Influential, it is estimated that it will decline for several years;
? In Europe, France and Italy continued to drop (-6%, already narrower than in 2015), Germany stopped falling, unchanged from last year, it seems that Europe is very weak ... No wonder the UK wants to exit the European Union, they actually increased by 2.9% ...
Last year's winner was Mexico.
its annual growth of 12.3%, for the first time it got into the TOP10 (Australia's growth of 3.9% or Mexico's TOP10), the most amazing in Mexico is the "median age". Only 28 years old, is the youngest in the TOP10, and the young people Like music. I recommend everyone to watch the "Coco" written by Disney recently.
Next, let's look at:
Musical instrument manufacturer ranking
Note that it is not [retailer ranking]. Although the global instrument industry is in a downturn, the share of "TOP225" instrument manufacturers is continuing to increase slightly. This is the "head effect" of the Internet era – the strong becomes stronger, small manufacturers will perish slowly. Just like boiling frog in lukewarm water.
Big companies are getting bigger
The picture above seems to be steady, but the undercurrent is soaring...
YAMAHA fell by -10%
Leading big company drastic dropping may signify a big layoff in China/US, but its staff has increased by 50 people... We think that "big company" is not a trend in the Internet age, and Japanese companies' pension culture will accumulate crisis, Yamaha has the possibility of falling in 2017;
Newcomer Gibson fell 3.7%, which led to layoffs of 200 (3.8% layoffs, US companies are very precise) ... Can understand that they are hurting t
he "foster" Cakewalk, the excitement from increase in scale from the acquisition is only momentary.
The third big firm Harman Pro was acquired by Samsung at the end of last year. In 2016, it still has no impact. However, Koreans are much more resolute than the Japanese. In September this year, Harman Pro cut 1/5 of the people, the impact of which will remain unknown till the end of next year.
KAWAI also fell 10%, hand-in-hand with the fellow YAMAHA. The new Japanese company Pioneer DJ is very unusual. This old brand has not submitted data to NAMM before? It ranked No.7 as soon as it came up, even more unusual is that it has only 280 staff, that is only 1/10 of its opponent...
There are also two companies on the list that are worth noting:
On the list, No.21 and 24, Longjoin is Longjoin Group. You may have seen it at the domestic music shows. LongSheng is a guitar brand. The writer still hasn't figured out... In fact, the Chinese companies that were on the list before (except for The Music Group, which has changed its operation nation),
is mainly based on traditional pianos, such as Perth, Pearl River, Xinghai, and Meridian. The state-owned companies on the list are finally adding more varieties.
In addition, the writer lists several companies that are growing faster, and their products can be noted: Focusrite (14% increase), BLUE microphone (21% increase), IK Multimedia (180% increase, ranking from 164 liters) To 81), Germany K&M (up 87%, ranking from 124 to 82)... In conclusion,
None of the high growth is from traditional instrument.